Heart Fire Sanctuary:




The Sanctuary and the Heart Fire
The Sanctuary and I


The ancestral land lineage of Heart Fire Sanctuary resides within the traditional lands of the Clackamas Nation, relatives of the Chinook Peoples who speak the Wasco-Wishram dialect. People of water and fire in kinship with "tumtum" (Chinook for heartbeat), the heartbeat of the waterfalls which give them sustenance for life. This heartbeat and our heart beat nurtures the vision of my work.

My parents moved into our ranch style house built on an old subdivided broccoli farm owned by Mr. Sipes in 1968. It sits between the towns of Boring and Damascus just outside of Portland Oregon .At that time we were mostly surrounded by berry fields with a couple of closer neighbors and my old grade school, Damascus Union, just across the field.

Over time new development has transpired in the adjacent towns however the land around the Sanctuary has changed little. The berries have been replaced by green houses, the sound of traffic is more persistent, and my grade school is now a Montessori School. But our trees have also grown tall and the open natural feeling is still strong medicine for the soul.

My sister and I inherited the land along with a few cats and dogs, beautiful trees my mother planted and the old ranch house. We decided not to sell the land. I decided, instead, to stay. I gave myself 5 years to see what I could develop. If nothing came, then I would sell it.

Shortly after I decided to stay, the idea of a community gathering place came into my life. Actually, when it did, I recognized it from a lot of writing I had done almost 20 years earlier, but shelved it because I had no place for it to be developed.

The ideas and energy grew and about a year later the name Heart Fire Sanctuary came. The name seemed to support the ceramic artist and the wood fired kiln at its heart while also focusing on the idea of 'a special place' where ceramic artists' health: mind, body, and spirit could be cared for. It quickly grew into a place where all people can come to touch the Earth and heal….Where wisdom keepers, teachers, and community leaders could be revealed to offer their gifts to a humanity hungry for the sanity of a new vision...Where all people can prepare for the shaping of the new cultural paradigm...an imperative for the health of all life.


...Where all people can prepare for the shaping of the new cultural paradigm...an imperative for the health of all life.


The Heart Fire
The Heart Fire is both a reference to the passion of the human heart and a literal kiln made of brick where ceramic objects can be made into stone.
This type of ceramic kiln uses only wood to create the high heat needed to make stoneware. They've been serving humanity for thousands of years.
I was first exposed to this type of firing in 1996 in Flagstaff, Az. I had no idea what to expect but I found myself surrounded by hundreds of the most unlikely people swinging axes, hauling wood, celebrating with drinks and cigars, all ages equally excited to be involved in this experience. Hundreds of pots laid out slowly placed into these enormous brick tunnels. At that time I couldn't see it for what it really was; a ceremonial dance between Earthly elements and Humanity's creative spirit.
I refer to creativity here as our ability to adapt, survive, and give back praise for the Earth's abundant gifts with meaning and beauty.
I had fantasized about building my own wood kiln but the task was so monumental in the areas of my skill, land resources, and financial commitment that I never thought it would be possible. So I talked myself out of the idea whenever it came up.
But the fantasy persisted.
...a ceremonial dance between Earthly elements and Humanity's creative spirit.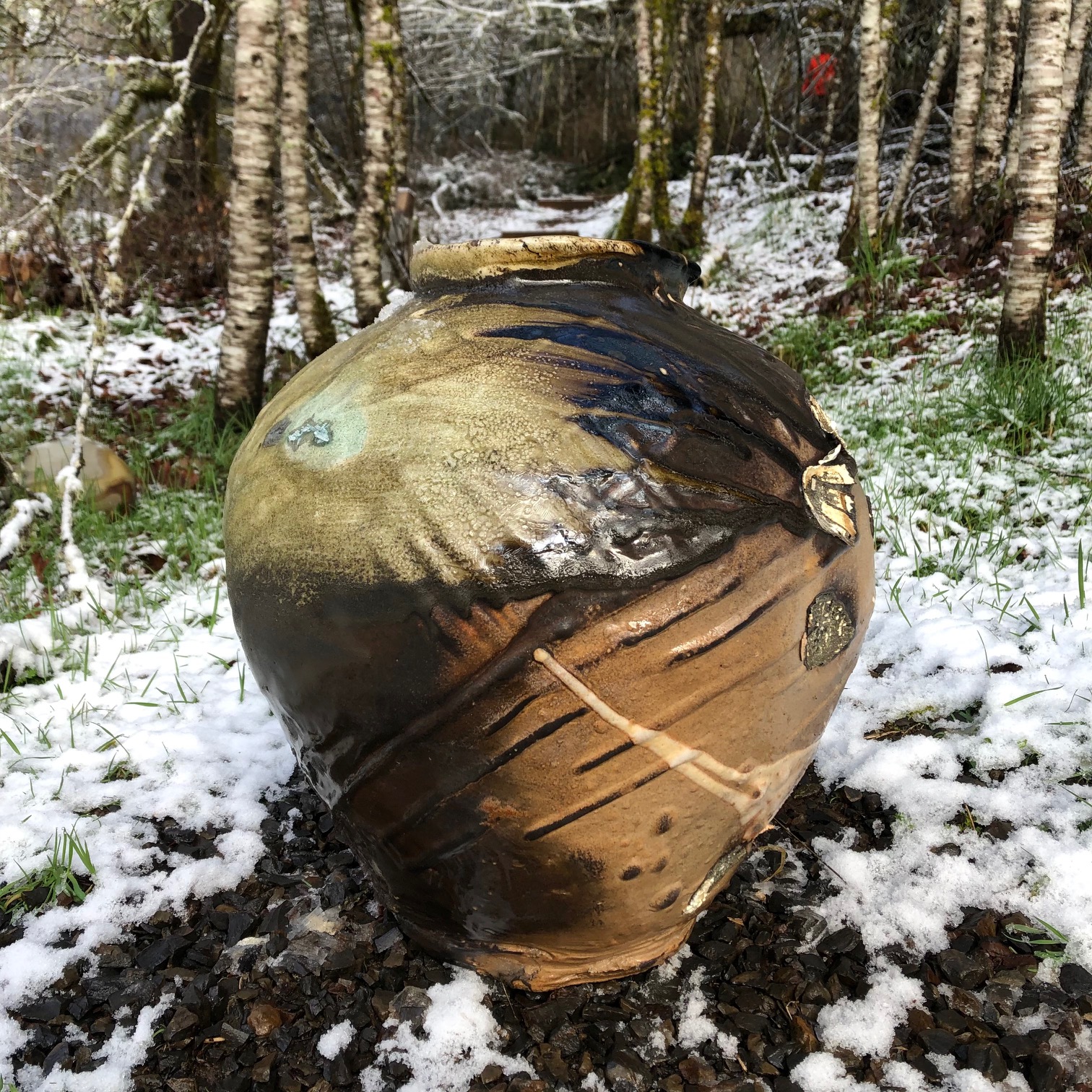 Soon, after I moved back to my childhood home in Damascus, Oregon I received a call from my close friend and Japanese tea ceremony teacher Jan Waldmann. She asked if I would help her do a tea ceremony at a Zen meditation center in Washington under the guidance of Oki sensei. I was happy to comply. While there, Mr. Oki told me of his wood firing kiln on the property that he has been firing for 20 years. I had heard of it but had never seen it. He shared that he was needing to return to Japan and therefore thought it best to retire the kiln and asked if I would like to have it. To say the least I was stunned, thrilled, not believing it was happening. I waited until I heard the offer a few times to make sure I understood thoroughly, then said yes.
I returned 2 weeks later to view the kiln. I asked Oki sensei to do a ritual to close this chapter of the kiln. He offered incense and chanted the Heart Sutra. Deep bow of gratitude. It took me and many friends with hammers, chisels, trucks and trailers over 4 months to disassemble and partially clean the almost two thousand bricks and move them to Heart Fire Sanctuary.
Over the past 2 years we've completed the Kiln Temple Roof, cleaned over 2,000 bricks, poured the concrete slab for the foundation, and cut and welded steel framing. After the heroic effort of many people in July 2021 the kiln currently stands at near completion with our first firing on the
horizon.
So much gratitude for all those who have spent countless hours with hard work supporting the realization of a dream.
-Richard Brandt, 2022